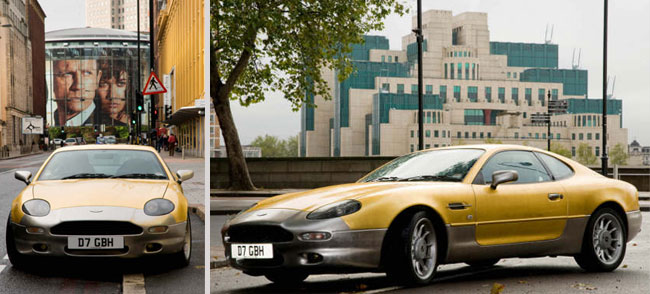 You Only Live Twice
The Aston Martin DB7 is the archetypal Bond car.
Effortlessly quick, raffishly handsome, with a pedigree that harks back to Auric Goldfinger, everybody knows that this is the car that 007 would select as his weapon of choice. Elegant, powerful, luxurious, meticulously crafted and rich in character, this is a superb car to drive, being very sophisticated with sequential fuel injection, four piston brakes and specially designed tyres. The shape was penned by Scottish designer Ian Callum and it has been hailed as one of the world's most beautiful cars and timeless of automotive designs.
The Aston Martin DB7 is a grand tourer (GT). The term Grand Tourer comes from the Grand Tour, the traditional travel of Europe undertaken by European young men of means. The Grand Tour served as an education rite of passage for which the primary value lay in the exposure to the aristocratic and fashionable society of the European continent.
The most common itinerary of the Grand Tour usually began in Dover , England and crossed the English Channel to Calais . The traveller would then continue to Paris then to Geneva to the cross the Alps into Italy to visit Venice , Florence and Rome . The traveller then traversed the Alps heading north, visited Holland and Flanders before returning across the Channel to England .
The Specs :
-Gold, platinum and palladium covered, with Black and Grey Leather Interior. Burr walnut dashboard with 24 carat gold.
- 3.2 litre Supercharged 6 Cylinder Engine with Electronic Fuel Injection, mated to a 5 Speed Manual Gearbox.
-Performance figures: 335 bhp, 165 mph and 0- 60 mph in 6 seconds. Fuel consumption: 20 mpg (combined driving) 25 mpg (motorway driving).
-Maintained regardless of cost. 114,500 miles on the clock. Excellent condition.
-Major service in December 2007, Fitted with Bridgestone tyres ( 5,000 miles since new).
-Engine recently overhauled with new timing chains and guides fitted, cylinder head decarbonised, rebuilt with all new gaskets and seals. Personalised Number Plate "D7 GBH" and a Tracker Retrieve is fitted.
-Has a genuine Aston Martin Car Cover and was garaged every night. All usual Aston Martin DB7 refinements.
For further information please contact us by e-mail : info@goldenrooftop.com